LOOKING FOR GOOD WOMAN TO MARRY BETWEEN AGE OF 30 T0 85 I am over 50 yr old, seeking nice lady bet 30 to 85 with view to marriage. Only sincere persons, pls email bio w/recent photo: peterhappines xbox1@gmail.com
Ad Reference: 115243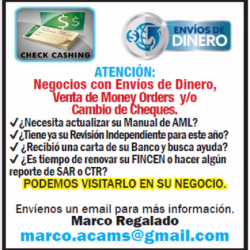 Attention Business with following services:
Money Wire Transfer, Money Orders or Check Cashing
We can help you with the following issues:
Update your Anti Money Laundering Manual
Independent Review
Bank Letter requesting information
Renewing your FINCEN or preparing a SAR or CTR Report
We can schedule an appointment to visit you business.
Please email Marco Regalado at:
marco.acams@gmail.com
Atención Negocios con Envíos de Dinero, Venta de MO y/o
Cambio de Cheques.
¿Necesita actualizar su Manual de AML?
¿Tiene ya su Revisión Independiente para este año?
¿Recibió una carta de su Banco y busca ayuda?
¿Es tiempo de renovar su FINCEN o hacer algún reporte de SAR o CTR?
Podemos visitarlo en su negocio.
Envíenos un email para más información.
Marco Regalado
marco.acams@gmail.com